Shuttle Services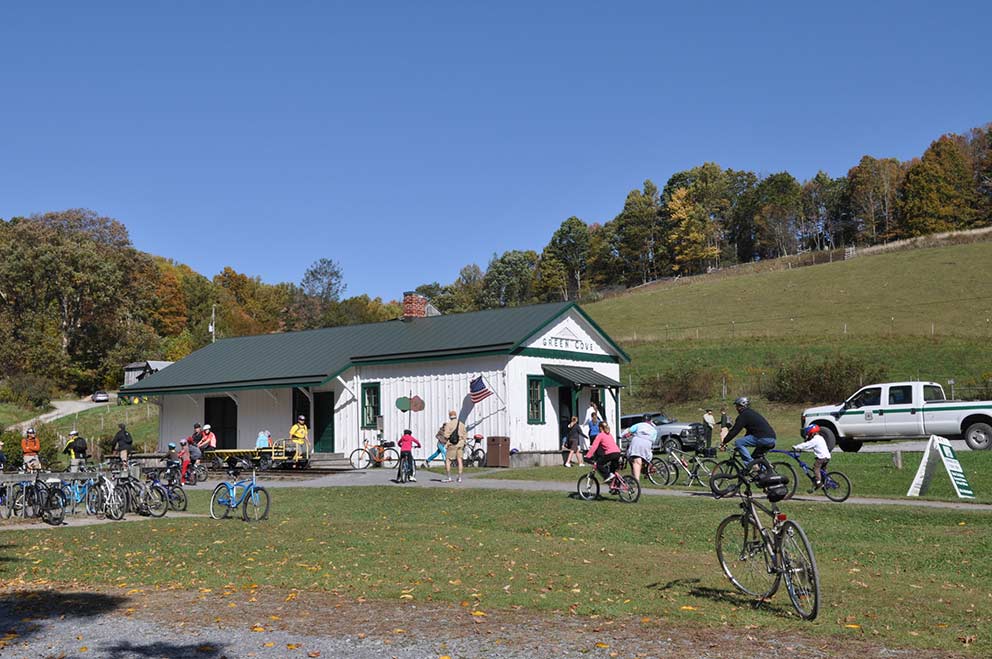 ---
Come on in for friendly advice on the best camping, backpacking, hiking, fishing, lodging and mountain biking opportunities that can be found along the Virginia Creeper Trail, Appalachian Trail, area streams and the Mt. Rogers National Recreation Area. We're located on the east-end of downtown Damascus right on the Virginia Creeper Trail and Appalachian Trail corridor milepost 16. The white blazed Appalachian Trail passes right in front of our location and the Virginia Creeper Trail borders the property line on our left. You can literally backpack, mountain bike or drive right to our door.
Adventure Damascus Bicycles has been your guide for providing creeper trail bike rentals and shuttle service on the famous Va Creeper Trail since 1998. Located in the "Heart of the Creeper Trail" Damascus, Va.

Full service bicycle dealer and largest bicycle rental and shuttle facility on the trail (serving Damascus, Abingdon, Whitetop and all stops in between). Fat-seat comfort rental bikes. 128 West Laurel Ave.

SunDog Outfitter, located in the Virginia Creeper Trail Depot in Damascus, Virginia is your one-stop source for information on the Virginia Creeper Trail.

Full service outfitter for the Creeper Trail and the Appalachian Trail. Bicycle rentals and shuttles year round. Camping, Hiking, and Cycling gear for novice to enthusiast. Maps, advice, and info. 331 Douglas Drive.
Creeper Trail Depot
331 Douglas Drive
Damascus,VA 24236
Phone:(276) 475-6252
It's a step in the right direction, at least. As even the slightest stir from
rolex replica sale
is apparently headline-worthy, let's take the loupe to this 2017 Rolex Sky-Dweller
replica watches uk
, beginning with the new hands and indexes. These new Rolex Sky-Dweller models are characterized by the blocky, rectangular indexes and longer hands. Previous models have all been Roman or Arabic numerals that could even be viewed as quirky in a
rolex replica sale
context, so this adds a significantly more standard and conservative option to the collection. Further, it will allow
rolex replica uk
savants to distinguish at a glance, say, an all-white-gold model from a two-tone steel and white gold model. Longer hands, as we saw on the Rolex
replica watches uk
Explorer last year, are always a welcome improvement to legibility and aesthetic balance. Between a few dial color options, these features debut on a range of about six Rolex Sky-Dweller
replica watches sale
models, with two variations of a "Rolesor" case.